Hillbillies Cloggers - Sydney Experienced cloggers click here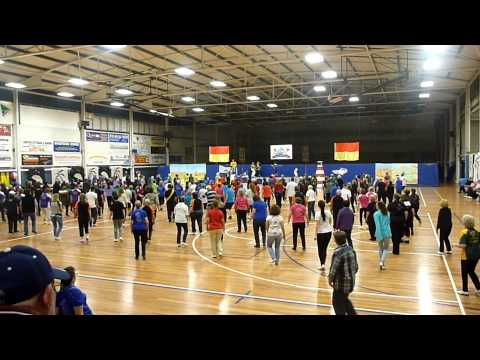 Are you looking for a new activity or pastime?
Have you always secretly wanted to tap-dance but shied away from dance studios or couldn't be bothered with costumes and concerts?
Come and give CLOGGING a go!
It's a tap-style dance, taught in a very casual club atmosphere.
FIRST LESSON FREE
Group beginner courses run from time to time at Pymble and South Hurstville - then you are in - weekly dance nights, clogging weekends away.
Get a group of friend together and we will run a 10 week beginner course, or put your name down then next class starts once we have enough names.

Contact Vickie Dean 0411 751186 for further information.
Check out this video of normal dancers doing general dance sessions at our recent clogging convention.
In addition, demos and shows by smaller teams of dancers:
What is clogging?

The best way to describe clogging is that it looks like a cross between Tap Dancing, Line Dancing and "River Dance".
cloggers wear leather shoes with jingle taps on them, usually dance in lines and the rhythms generated often sound like those of Irish Dance.
Unlike Irish, clogging is done with a relaxed upper body. Individual styling is encouraged so all ages and all fitness levels can dance together.

Some cloggers dance only at their weekly clubs.
Others take advantage of social events and clogging weekends away, and there are those that do public performances & demos.

Clogging is one of the two main folk dance forms that started early in the development of the USA as the new European settlers mixed their various traditions.
There are now many thousands of clogging clubs in USA and around the world.
In Australia there are over 80 clubs.



What has clogging got for you?

Clogging gives you the opportunity to get out and enjoy a great social activity and get fit at the same time.
Clogging improves flexibility, coordination, endurance and strength. It increases lung capacity, relieves stress, and is aerobic.
Dancing has been proved to delay the onset of dementia.

Clogging is mainly a singles dance so you do not need a partner.

In Australia the instructors teach both the steps and the routines, but you do not need to remember the routines.
As you saw in the above video, the instructors cue or call all routines every time they are danced.
This means once you know the steps at a given level, you can quickly join in with routines you have never seen.

You will find you dance many and varied routines to pretty much all types of music.

At club you are encouraged to develop your own personal style.
You are not meant to look exactly the same as the person next to you, we don't try to be a chorus line.
Some people are very flamboyant and energetic, others are more sedate.
Experienced dancers often add extra tap beats in between the normal steps.
When you need a quiet night, steps can be done with your feet barely lifting off the floor.
When you want to let off steam you can put in more energy and make a lot more noise.

Like other worthwhile sporting activities, to progress quickly you may need to practice outside your normal dance class.
The good news is you can practice anywhere - In a lift, pushing a shopping trolley, sitting at a desk, in the kitchen etc.